Google Analytics 4 eCommerce
Google Analytics 4 eCommerce
---
Adding GA4 eCommerce events to Odoo website
Description
Add eCommerce events to your e-commerce site to make the most out of the eCommerce reports in Google Analytics. Implementing these events will allow you to quantify your most popular products and see how promotions and product placement affects sales.
The module adds tracking of the following Google Analytics 4
eCommerce
events:
login

: when a customer login to the portal (will be added by the module "Google Analytics 4 Global Site Tag");

sign_up

: when a customer registers on a website from the login page (will be added by the module "Google Analytics 4 Global Site Tag");

view_item

: when a customer viewing a product page;

view_item_list

: when a customer viewing a product list/grid page;

search

: when a customer searching products;

add_to_cart

: when a customer clicking on the

Add to Cart

button on a product or a product list page;

begin_checkout

: when a customer starting the checkout process from the cart page;

add_shipping_info

: when a customer clicking on the

Next

button after filling in address fields;

add_payment_info

: when a customer clicking on the

Pay Now

button after selecting a payment method;

purchase

: when a customer finishing the checkout process on the confirmation page.
Features
Easy & Simple
Easy to activate and configure
Track visitor actions
Allow to track and analyze customer actions on a website
Support
Free 30 days support and 180 days bug-fixing
Try me
Demo & Test. Click on the "Live Preview" button
Configuration
Adding a tracking ID
Go to the menu "
Website
" - "
Configuration
" - "
Settings
" then:
Activate the "Google Analytics" option.
Then enter Tracking ID.
Choose the product type which IDs you want to be used in the tracking events.

The recommended value is

Product Template ID

, use it if you are not sure which option to choose.

Select a product category type what do you want to send to Google.

The recommended value is

Public Category

. Or you use the module

Google Product Category

to manage them in your products. In this case, you can select the type

Google Category

.
Save the changes.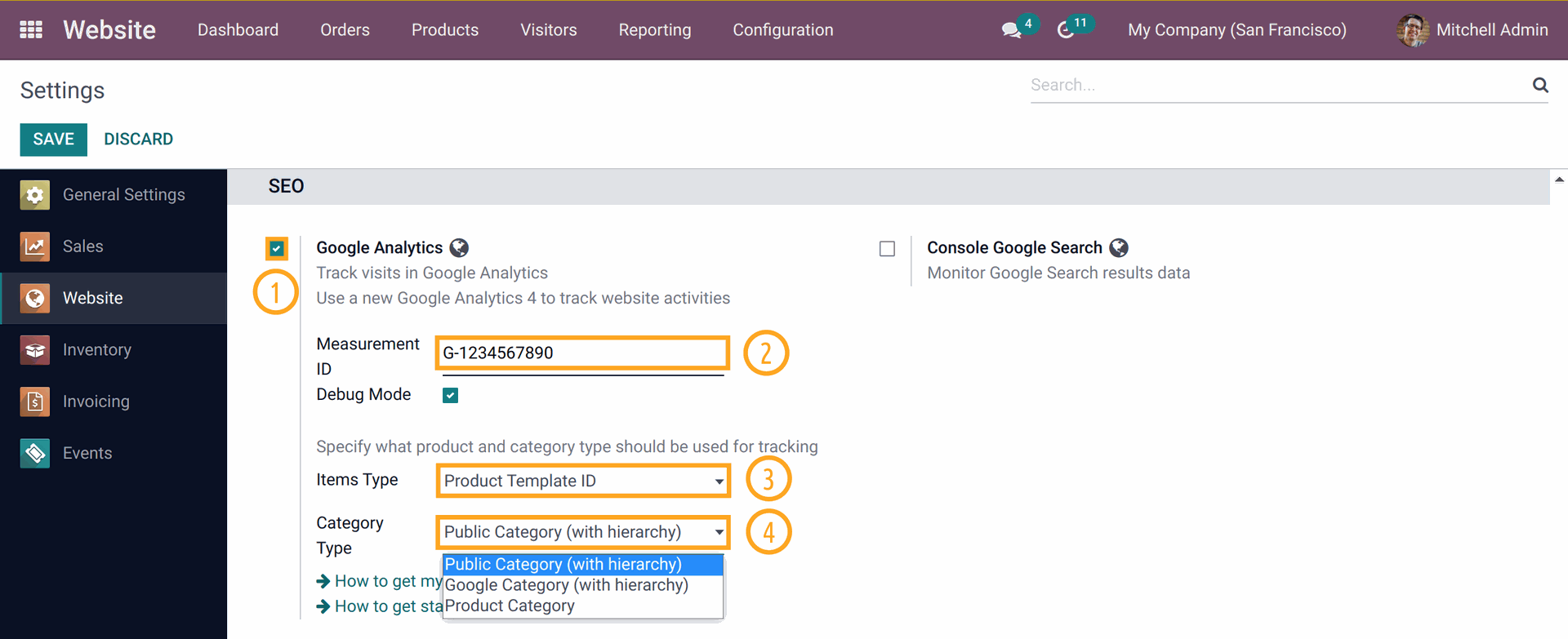 The script code
Google Analytics 4 eCommerce events will be fired on the product and checkout web pages.
User ID
To track user IDs of logged-in clients, activate the option "Add User ID".
After activation, user IDs will be created automatically for all system users as random values.
Debug Mode
You can activate the "Debug Mode" and test sending of events to Google.

To do it, activate the appropriate option in website settings.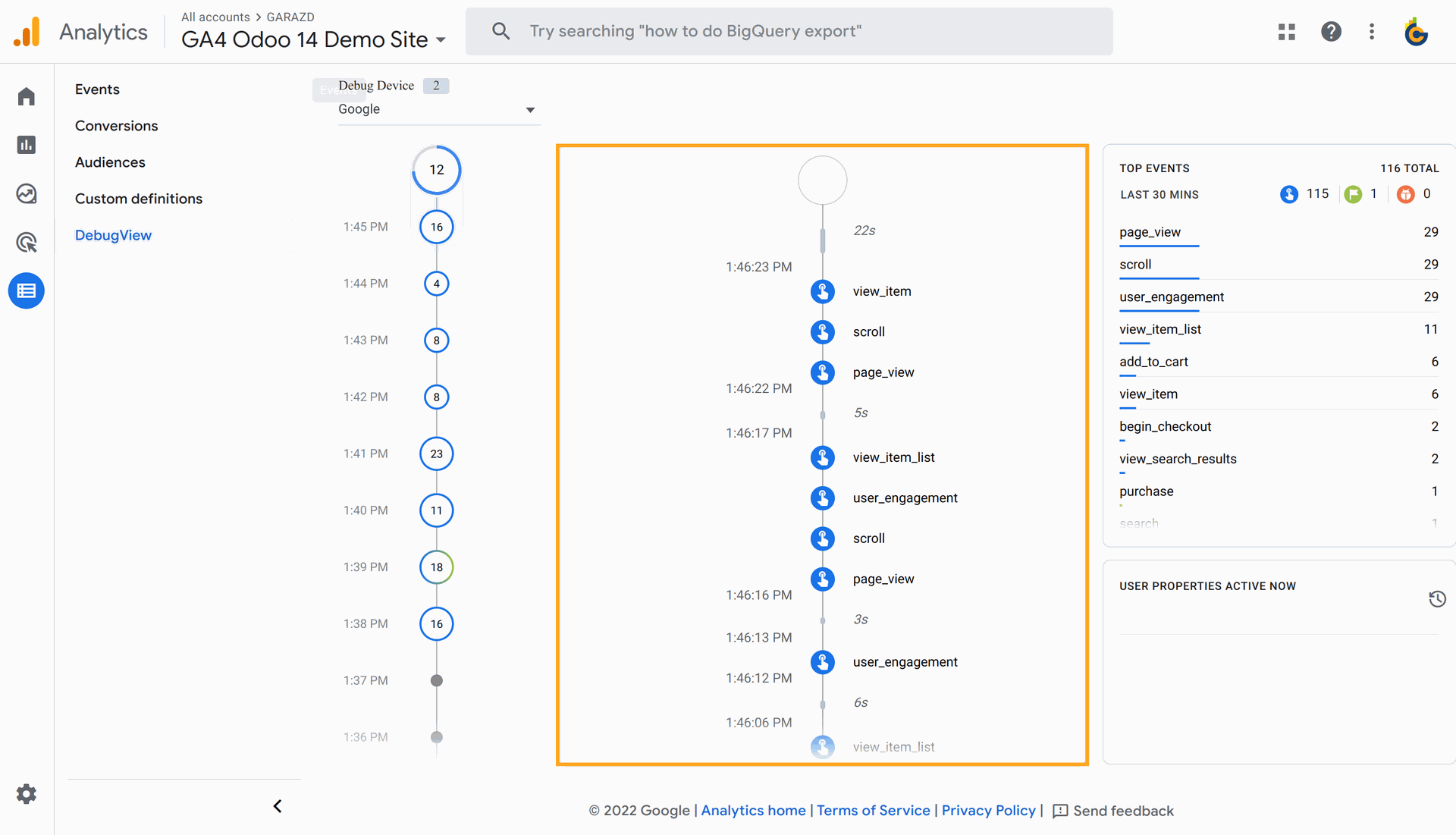 View events in the "Debug View".
The functionality of the module may partially or completely not work if you use website theme customizations or have installed custom modules that change standard website pages and views. Please contact us for more information and advice.
Contact Us
Support, customizations, and development
Our expertise
Odoo Learning Partner
OCA Member (2021)
Over 6,000 app downloads and purchases
Version: 15.0.2.1.0
Add Google Analytics User ID Feature.

Extend the standard e-commerce tracking logic.

Add product category type selection.

Fix the "AddToCart" event function for logged users.
Це попередній перегляд переглянутих товарів користувачем.
Після того, як користувач переглядає принаймні один товар, цей сніпет буде видно.
Переглянуті товари за останній час