TikTok Pixel eCommerce
---
Програмний модуль для системи Odoo "TikTok Pixel eCommerce"
---
Integrate a powerful business tool - Odoo TikTok Pixel with your website to measure customer actions and get analytics to improve your TikTok Ads
Description
TikTok Pixel is a piece of code that you can integrate to your Odoo website to collect data about your website visitor actions and then share this tracking data with TikTok. Tracking data shared with TikTok shows website events and is used for analytics: to measure Ad campaigns performance, to optimize conversions, to get audience and video insights, and performance reports.
Implementation
The module uses an approach when you do not need to configure setting up standard eCommerce events with TikTok Event Builder on the TikTok Ads Manager side. Just add a TikTok Pixel ID in a tracking service on Odoo side to start collect standard events data with the proper and detailed information about products and send it to TikTok.
Let's consider the TikTok Standard Events implemented by this Odoo module:
Contact

- when a customer has submitted a form, e.g. on the Contact Us webpage;

Complete Registration

- when a visitor signs up on the portal;

Search

- when a visitor searches products or services;

View Content

- when a visitor views a product or a product list webpage;

Add to Wishlist

- when a visitor adds a product to the Wishlist;

Add to Cart

- when a visitor clicks on the "Add to Cart" button;

Initiate Checkout

- when a visitor proceeds to checkout;

Add Payment Info

- when a customer chooses a payment method and clicks on the Pay;

Complete Payment

- when the order confirmation page is displayed after payment.
The Odoo TikTok Pixel app supports of multiply pixel ID adding, so you can activate and configure several TikTok Pixels for each Odoo website in your system.
In addition, you can activate the Internal Logging feature, which allows you to get events tracking data directly in Odoo. Thereby, this data can be analyzed in convenient for your business way, and extend your company's analytics capabilities.
Advanced Matching for Web
According to your business needs, you will be able to activate Advanced Matching for your TikTok Pixel and add your customer's email, phone number and external ID to tracking events. This customer information is hashed with SHA256 before transferring to TikTok. TikTok performs matching of received data about your customers with TikTok users to provide more relevant Ads.
Event Deduplication
The solution provides the additional parameter "event_id" that is included to pixel tracking data and can be used for event deduplication on the TikTok Ads Manager.
TikTok Pixel is an advanced measurement tool for your Odoo website that can bring many benefits for your eCommerce store and allows you to promote your products and services on the TikTok social network.
Benefits
Multiple Pixels
Connect the necessary number of pixels for each Odoo website
Internal Logging
Log tracking events of website visitors in Odoo
Support
Free 30 days support and 180 days bug-fixing
Try me
Demo & Test. Click on the "Live Preview" button
Enable Website Tracking
Go to the menu "
Website
" - "
Configuration
" - "
Settings
" and activate the related option in the "Tracking" section.

You can activate the debug logging for testing purposes as well. Additional messages will be added to the Odoo log and a browser console.
Configuration
Adding a tracking service
Click on the "Manage Tracking Services" link in the Settings view, or go to the "Configuration" - "Tracking" - "Services" menu and create a new tracking service for your Odoo website.
Specify a website (if you have a multi-website environment).
Select the service type "

TikTok Pixel

".
Fill in your TikTok Pixel ID.
Log events in Odoo
If you want to get data about tracking events in Odoo, activate the "Internal Logs" option. To view the log records related to the current service, click the "Logs" button at the top of the form.

Advanced Matching
You can use the Advanced Matching option with this app, which allows you to add some customer's data, such as email address, phone number, and external ID (random unique identifier) of your portal users to the tracking data sent to TikTok Ads Manager. Before sending through the TikTok Pixel script, this customer data will be hashed according to TikTok requirements.
Found out more about the TikTok Advanced Matching for Web by this link: https://ads.tiktok.com/help/article/advanced-matching-web.
To include customer's data to TikTok Pixel events, open the "Advanced Matching" tab and activate related options.

Testing
Testing by the Chrome extension
You can easily test the Odoo TikTok Pixel integration via the Chrome extension "TikTok Pixel Helper".

Testing Particularities
Since the TikTok Pixel script should not send tracking data about the activity of internal users on the website, there are some tips for testing:
The TikTok Pixel script will not be activated if you are logged in to Odoo and you have internal user's access rights.
Log out from the system or use the incognito mode or other browser to test TikTok Pixel tracking.
Monitoring events tracking
Monitor your Odoo website tracking by the TikTok Pixel Events Manager to get analytics and get informed about performance and issues.
To open the Events Manager, go to the "Tools" - "Management" - "Events" and click Manage on the Web Events widget.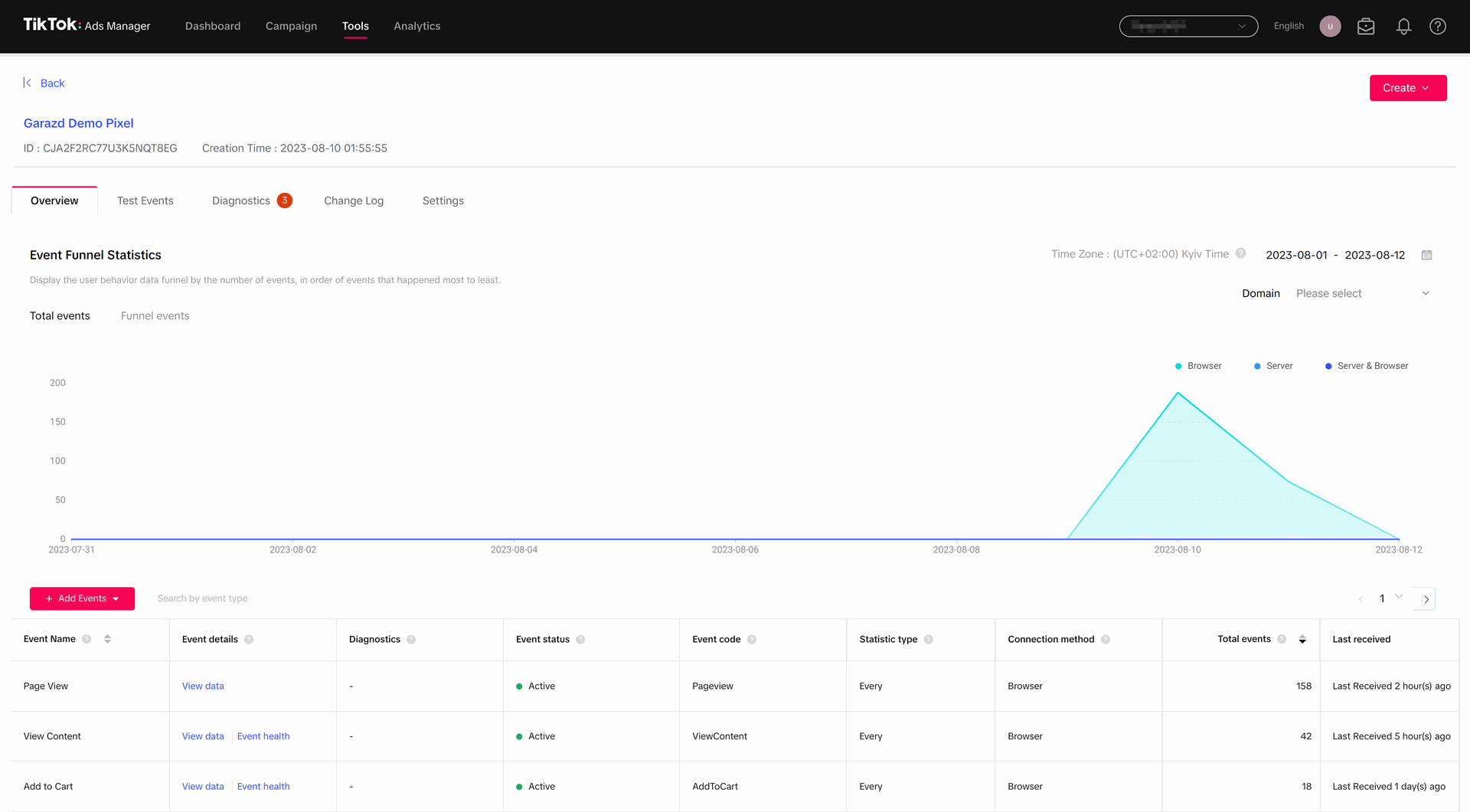 The functionality of the module may partially or completely not work if you use website theme customizations or have installed custom modules that change standard website pages and views.
Please contact us for more information and advice.
Переглянуті товари за останній час